Occupational Health & Ergonomic Services
Conwy Physio Clinic is a member of ACPOHE. The Association of Chartered Physiotherapists in Occupational Health and Ergonomics (ACPOHE) is a Professional Network of the Chartered Society of Physiotherapy. Simply put we are Physio's for Work and Health. We work to improve the health and wellbeing of workers so that they can do their jobs efficiently and effectively. We improve work design through ergonomics, to make work tasks comfortable and safe. An ACPOHE Occupational Physiotherapist typically can produce a return on investment for an organisation of £3 for every £1 spent.
Work Station Assessments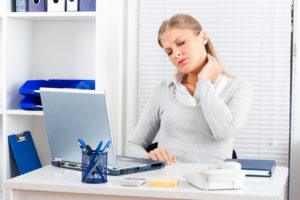 As part of an employer's responsibilities, under health and safety law, they are required to provide their employees with a safe working area. Specific to workstation areas, the Display Screen Equipment (D.S.E) regulations (1992) stipulate that '' Every employer shall perform a suitable and sufficient analysis'' of workstations used by their employees. Following an assessment, it states ''The employer shall reduce the risks identified in consequence of an assessment to the lowest extent reasonably practicable''.
Why use us?
Utilising the skills of an experienced Ergonomic assessor means that you and your staff benefit from the range of skills and experience that we have. Our assessors are not only Chartered Physiotherapists but are also registered with ACPOHE (Association of Chartered Physiotherapists in Occupational Health and Ergonomics).
If you have staff who have particular medical conditions they often require a more in-depth and specialist assessment than in-house assessors can offer. Also your in-house assessors may not have the time to carry out all of the assessments you are required to do. We are able to take up the short-fall and complete those assessments for you.
How is an assessment carried out?
Our assessor visits the client/staff member. After consent is gained to carry out the assessment, the assessor takes any history associated with the condition along with any other relevant medical and work history. An assessment of the work tasks and job role is made and the staff member is observed at their workstation. The assessor is then able to identify any mismatches between the job role and the individual. This allows the assessor to then provide practical pragmatic advice about how to improve the comfort and hopefully efficiency, therefore, of the member of staff. This often means adjusting the workstation layout and advising the individual about a variety of strategies to improve how they manage their working day, to make it more comfortable and hopefully more productive therefore.